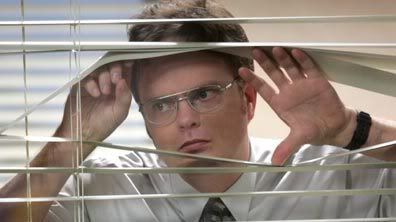 A BYU business professor recently did a study on how the addition of a "Dwight Schrute," a "socially distinct" team member, helps the team more successfully solve problems. Check out the
news release
. It's really interesting to read about the psychology of groups:
"According to Liljenquist, newcomers in the experiment didn't necessarily ask tougher questions, possess novel information, or doggedly maintain a conflicting point of view. Just being there was enough to change the dynamic among old-timers who shared a common identity.

When a member of the group discovered that he agreed with the new outsider, he felt alienated from his fellow old-timers - consequently, he was very motivated to explain his point of view on its merits so that his peers wouldn't lump him in with the outsider.

The person who found himself disagreeing with the in-group - and instead agreeing with an outsider - felt very uncomfortable. An opinion alliance with an outsider put his social ties with other team members at risk.

'Socially, that can be very threatening,' Liljenquist says. 'These folks are driven to say, 'Wait, the fact that I disagree with this outsider doesn't make me weird. Something more is going on here; let's figure out what's at the root of our disagreement.' The group then tends to analyze differing opinions and critical information much more thoroughly, and that facilitates much better decision-making results.'"